Discover more from Cathleen Falsani: This Numinous World
Observations from a life of looking by the author and journalist Cathleen Falsani
Over 2,000 subscribers
Light Rafts for Flagging Spirits | Vol 2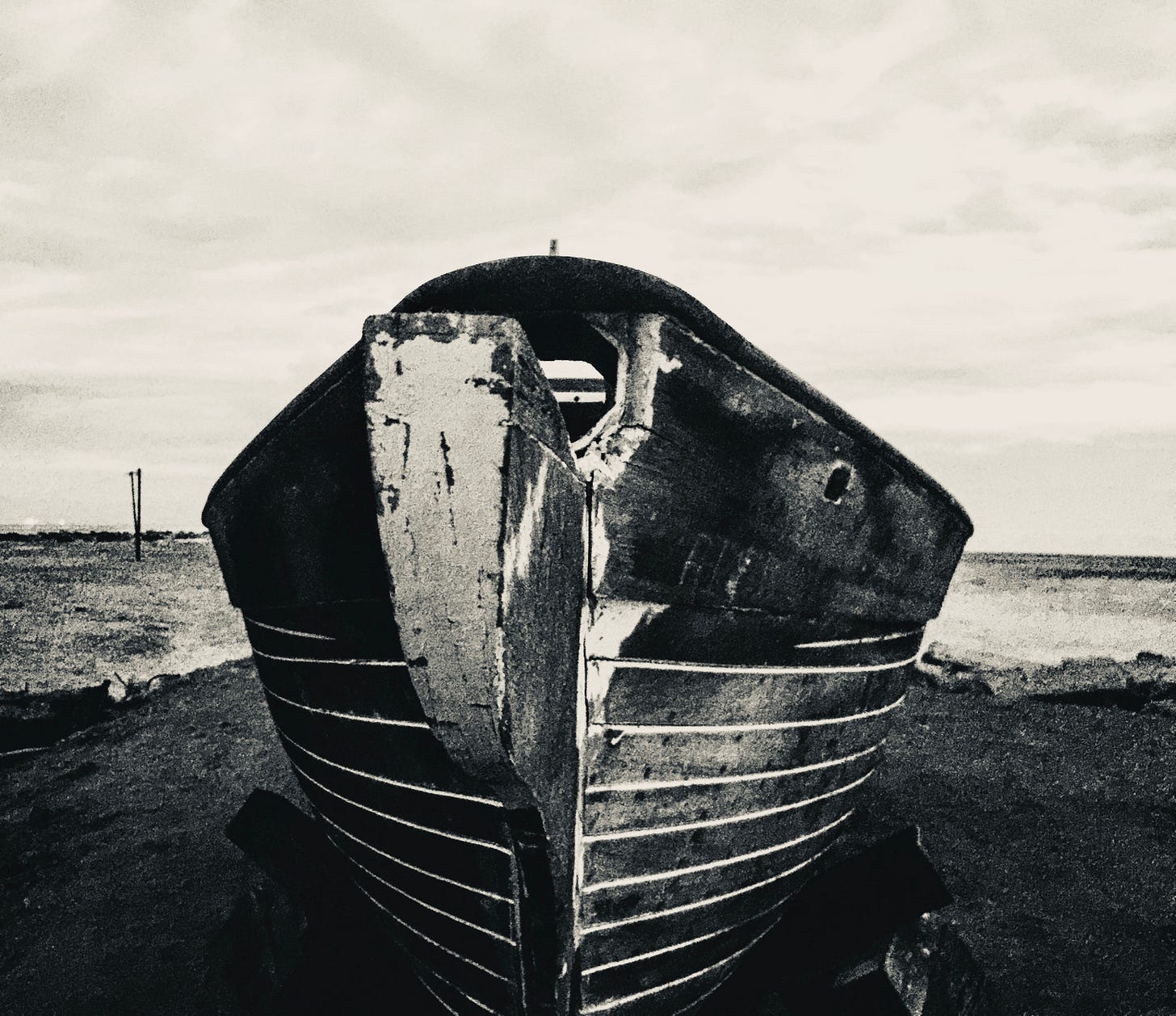 Each Friday, I share a short list of films, music, photographs, exhibitions, stories, spoken-word, and other found objects/creative endeavors I've collected in recent days that have helped buoy my spirit and I hope might do the same for yours.
---
1. Light for the World
An album by the Poor Clares of Arundel | Sussex, England
The Poor Clares are a 13th-century order of contemplative women religious who follow the Form of Life established by St. Clare of Assisi in 1253. The sisters at the Clares convent in Arundel, Sussex have just released an album of their plainchant music and I am utterly besotted with its sound and spirit.
Watch the album trailer below to hear the cloistered sisters themselves talk about what it's like to record an album during lockdown.
2. Ambient Musings
Sonic meditations by the Zen poet Andō | Portugal
"All words begin as silence," says Andō, the poet, writer, contemplative, spiritual director, and "silence facilitator." They recently shared a series of six sonic meditations on YouTube that, along with their website, which has a calming effect on me every time I visit it, function like mini sabbaths sprinkled throughout these hectic, anxious days of lockdown. I'd highly suggest checking them out (they range from 45 seconds to 3 minutes in duration), and consider doing a meditation with Andō via their website or taking a virtual class—I began their Small Silences poetry course earlier this year and it has been a gift that keeps on giving.
3. Lines & Lessons
Poet Alice Kiernan has written 12 poems about the last 12 months in a changed world | Ireland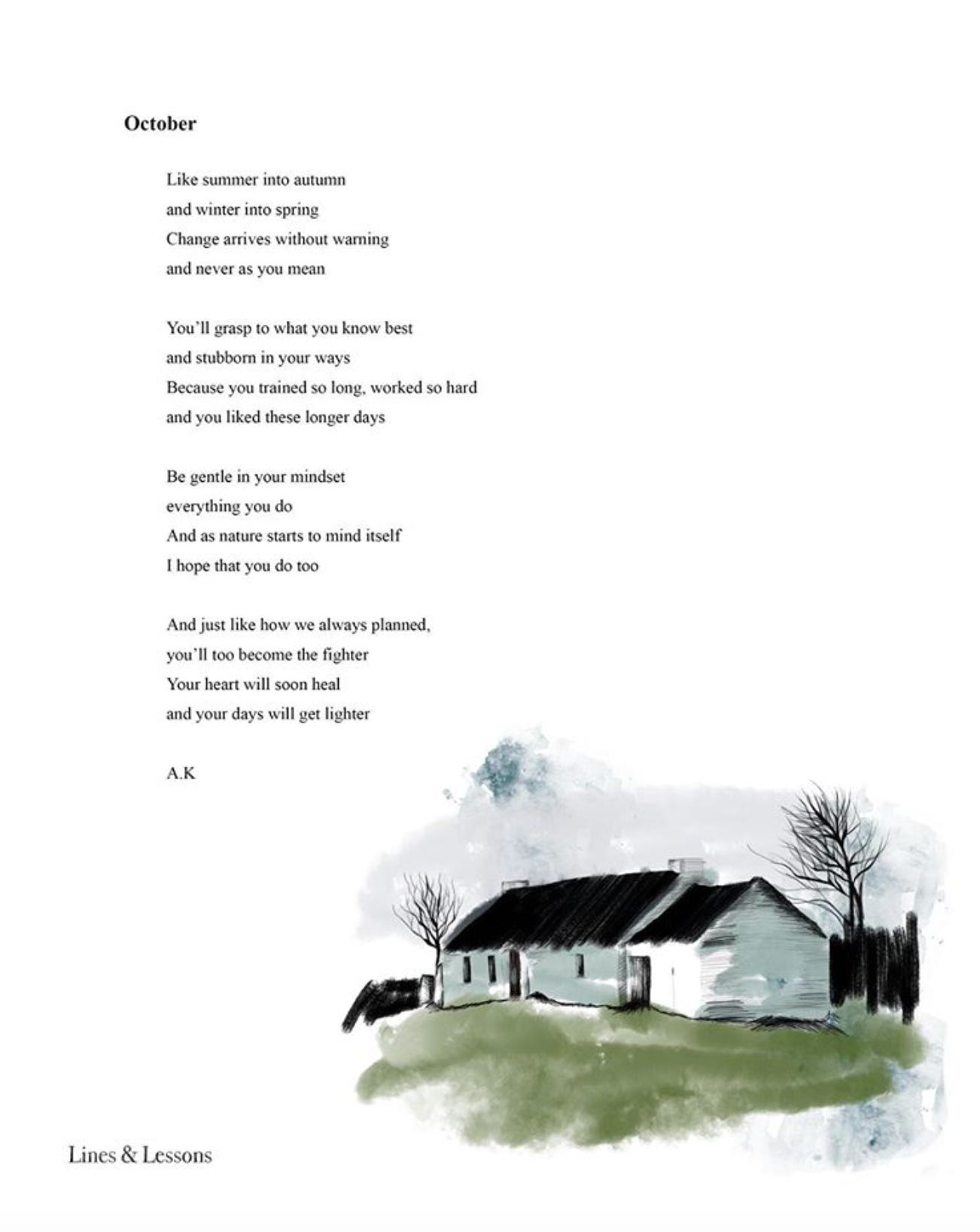 Alice Kiernan began writing poems last October and set a goal to write one a month for a year, having no idea at the time that she'd be chronicling a world amidst a global pandemic. The discipline of writing a poem each month has helped her process her reactions to the age of COVID. Despite the tumult and general distress that has our planet in its grips at the moment, Kiernan's poems are hopeful. (You can read more of her work via her Instagram account @linesandlessons.) The project also became a way for her to stay connected to her sister Lucy, who lives in Australia, and has illustrated Alice's poems. Hear more from Alice in the RTE report below.
4. Patti Smith on Poetry as Prayer
"Many poems are like little prayers," says the punk iconoclastic poet-author-artist
"I left my religion but I never left prayer," Smith says in this 2015 interview I stumbled across only this week. "It's a way to stay in contact, sometimes just with yourself, sometimes with a higher energy, and sometimes with our loved ones. Prayer, to me, is just a natural way of being."
When she was a child, she had a book of poetry called Silver Pennies. In the collections of poems about elves and faeries and mysticism, she encountered Blake, Yates, Vachel Lindsay and other poets who have stayed with her throughout her life.
Little lamb, who made thee?
Dost thou know who made thee?
"It's quite like a prayer," Smith says.
"Newspaper Stories": New music from Elvis Costello
We toasted to valor and wished there were peace…
6. Your Weekly Whimsy
Monkey cannonball