Discover more from Cathleen Falsani: This Numinous World
Observations from a life of looking by the author and journalist Cathleen Falsani
Over 2,000 subscribers
Light Rafts for Flagging Spirits | Vol 3
Poets, Prophets, and Playlists: A Pre-Election Care Package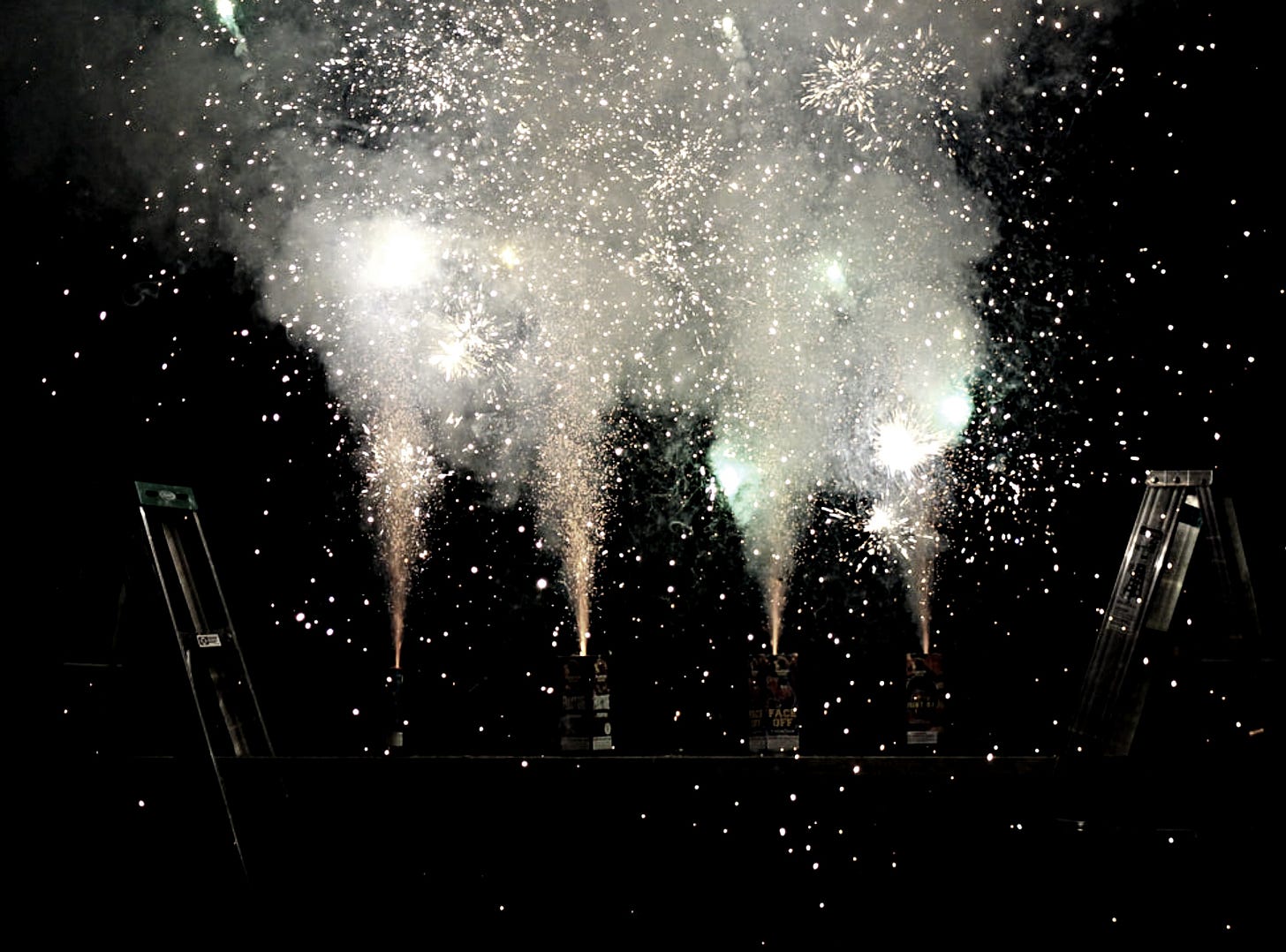 Each Friday, I share a short list of films, music, photographs, exhibitions, stories, spoken-word, and other found objects/creative endeavors I've collected in recent days that have helped buoy my spirit and I hope might do the same for yours.
---
1. Bruce Springsteen's Letter to You
Springsteen and his E Street bandmates recorded this hour-long album last November, but it sounds like it was written yesterday. Music to enkindle our spirits, for such a time as this.
I've listened to Springsteen and the E Street Band's new album and the accompanying film via AppleTV numerous times this week, with Jesus chills running through my body like electricity, bringing tears to my eyes and comfort to an increasingly twitterpated heart. As I listened (and listened), Frederick Buechner's quote about paying attention to the things that give you goosebumps, bring a tear to your eye or put a lump in your throat because they're "signs that the Holy is drawing nigh" came flooding into my consciousness.
If music can be light, this album (and the accompanying film, which, if you can swing the AppleTv subscription for even a couple of days, it's well worth it), are Kleig lights searching the night sky for hovering angels.
I found the entire album as moving as it is timely. (Listen to the whole album HERE. ) One song in particular yet to fail to conjure cathartic tears for me: House of a Thousand Guitars. Have a listen.
The blood moon shines across the vale
Bells ring out through churches and jails
I tally my wounds and count the scars
Here in the house of a thousand guitars

The criminal clown has stolen the throne
He steals what he can never own
May the truth ring out from every small town bar
We'll light up the house of a thousand guitars…
2. Stairwell
Ubi Caritas
by Kings Return
This quartet four friends from Dallas, Texas describes itself simply as: "We sing in stairwells."
Here are the words of this ancient hymn:
In Latin:
Ubi caritas et amor, Deus ibi est.
Congregavit nos in unum Christi amor.
Exsultemus, et in ipso jucundemur.
Timeamus, et amemus Deum vivum.
Et ex corde diligamus nos sincero.
In English:
Where charity and love are, there God is.
The love of Christ has gathered us into one.
Let us exult, and in Him be joyful.
Let us fear and let us love the living God.
And from a sincere heart let us love each other
3. Krishna Das' "Vote Your Heart Out" Playlist
Krishna Das, the renowned kirtan master and teacher, created a Spotify playlist for people waiting in (sometimes hours-long) lines to vote in person between now and when the polls close Tuesday night.
Intrepid voters: Thank you.
Please plan ahead. Bring water and snacks with you. And hand sanitizer. Stay safe. Wear a mask. Wear gloves. Stand six feet apart. And remain as blissful as you can.
KD's playlist should help considerably with the latter.
3. Springsteen Recites Elayne Griffin Baker poem
The Boss recorded this lamentation by the poet Elayne Griffin Baker, that begins, There is no literature or poetry in this White House./No music.
Springsteen has been an outspoken critic of the current White House regime for years. In the weeks and days leading up to the election next week, he's thrown his considerable support behind the Biden-Harris ticket, in interviews and ads, including a reimagining of his Oscar-winning song, "Philadelphia," aimed at Pennsylvania voters.
4. My Lux In Tenebris Lucet playlist for U2.com
There is a light you can't always see …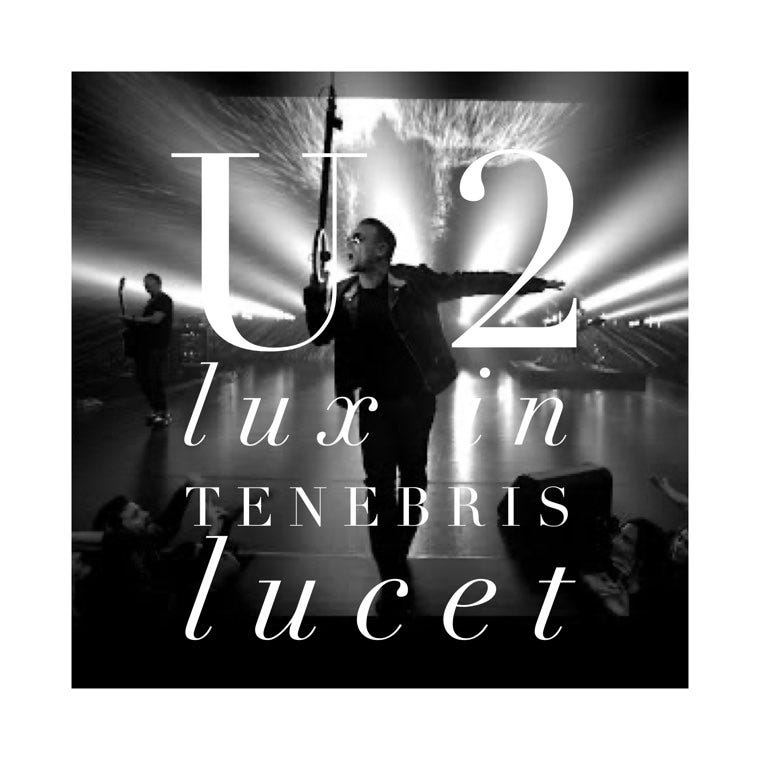 Recently, I was invited to create a biographical playlist for U2.com, the band's official website. I chose the theme of "look for the light," spiritual advice Bono encouraged me with seven years ago in a time of great personal loss and grief, not long after the death of my beloved father. "Looking for the light" has become my perpetual spiritual practice. My narrative playlist can be found here (behind a paywall for fan club members only), but the accompanying iTunes playlist is available to everyone. Click on the image above or the link below to listen. And be encouraged.
For there is a light in the darkness…
LUX IN TENEBRIS LUCET: A U2 PLAYLIST
5. Poet Pádraig Ó Tuama's live poetry event on Sunday, Nov. 1
The Northern Irish poet will be reading some new work, live, with all proceeds benefiting the TenX9 Storytelling project in Belfast.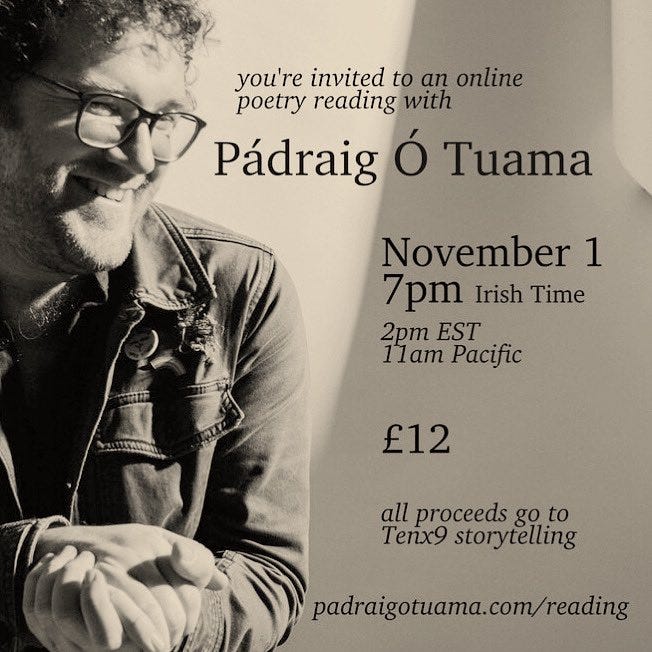 Pádraig, who some of you might know from his poetry podcast on the On Being radio network, is one of my favorite contemporary poets and simply one of the loveliest souls I know. This is a rare chance, in this time of lockdown, to get to hear him read new works aloud. I'll be in the Zoom where it happens. Hope you'll join me and let the poetry pour over you, like perfumed oil. A salve for weary souls. To register for the event, click HERE.
6. Speaking of Northern Irish poets … Joe Biden Recites Seamus Heaney
Never in my life has a political ad made me weep until now.
From "The Cure at Troy" by Seamus Heaney
Human beings suffer
They torture one another,
They get hurt and get hard.
No poem or play or song
Can fully right a wrong
Inflicted and endured….

History says, Don't hope
On this side of the grave…
But then, once in a lifetime
The longed-for tidal wave
Of justice can rise up,
And hope and history rhyme.

So hope for a great sea-change
On the far side of revenge.
Believe that a further shore
Is reachable from here.
Believe in miracles
And cures and healing wells.

Call miracle self-healing:
The utter, self-revealing
Double-take of feeling.

If there's fire on the mountain
Or lightning and storm
And a god speaks from the sky
That means someone is hearing
The outcry and the birth-cry
Of new life at its term.
7. One Last Time (the 44 Remix)
The Hamilton anthem inspired by Hebrew scripture gets a special remix in time for the most important election of our lifetime.
The final installation of Lin-Manuel Miranda's Hamildrop series from 2018 made the rounds again this week, and, along with the Boss's latest has been on high rotation in my office (and heart). Featuring Christopher Jackson and Bebe Wynans, the remix includes the biblical verse from Micah 4:4—Everyone shall sit under their own vine and fig tree, and no one shall make them afraid—and words (spoken by former President Barack Obama) from George Washington's final address on September 19, 1796, have fresh poignancy right now.
I anticipate with pleasing expectation that retreat in which I promise myself to realize, without alloy, the sweet enjoyment of partaking, in the midst of my fellow-citizens, the benign influence of good laws under a free government, the ever-favorite object of my heart, and the happy reward, as I trust, of our mutual cares, labors, and dangers.
We're gonna teach them how to say goodbye … teach them how to leave … to say goodbye one last time…..
8. The Keep Going Song | Interpretive dance version
Two weeks ago, we introduced you to The Bengsons The Keep Going Song—a whimsical hymn for flagging hearts in the time of COVID. Now another couple, performers Sarah Goeke and Travis Staton Marrero have created an interpretive (seated) dance number from their living room in NYC.
This is gonna be a week, so be gentle and kind to yourself and others. Hydrate. Rest. Eat. Go outside if you can. Connect with other humans in whatever way you can. Try not to doom scroll.
If you haven't already, PLEASE VOTE.
And no matter what happens November 3, please keep going!!