Santāna: Counting Crows
A poem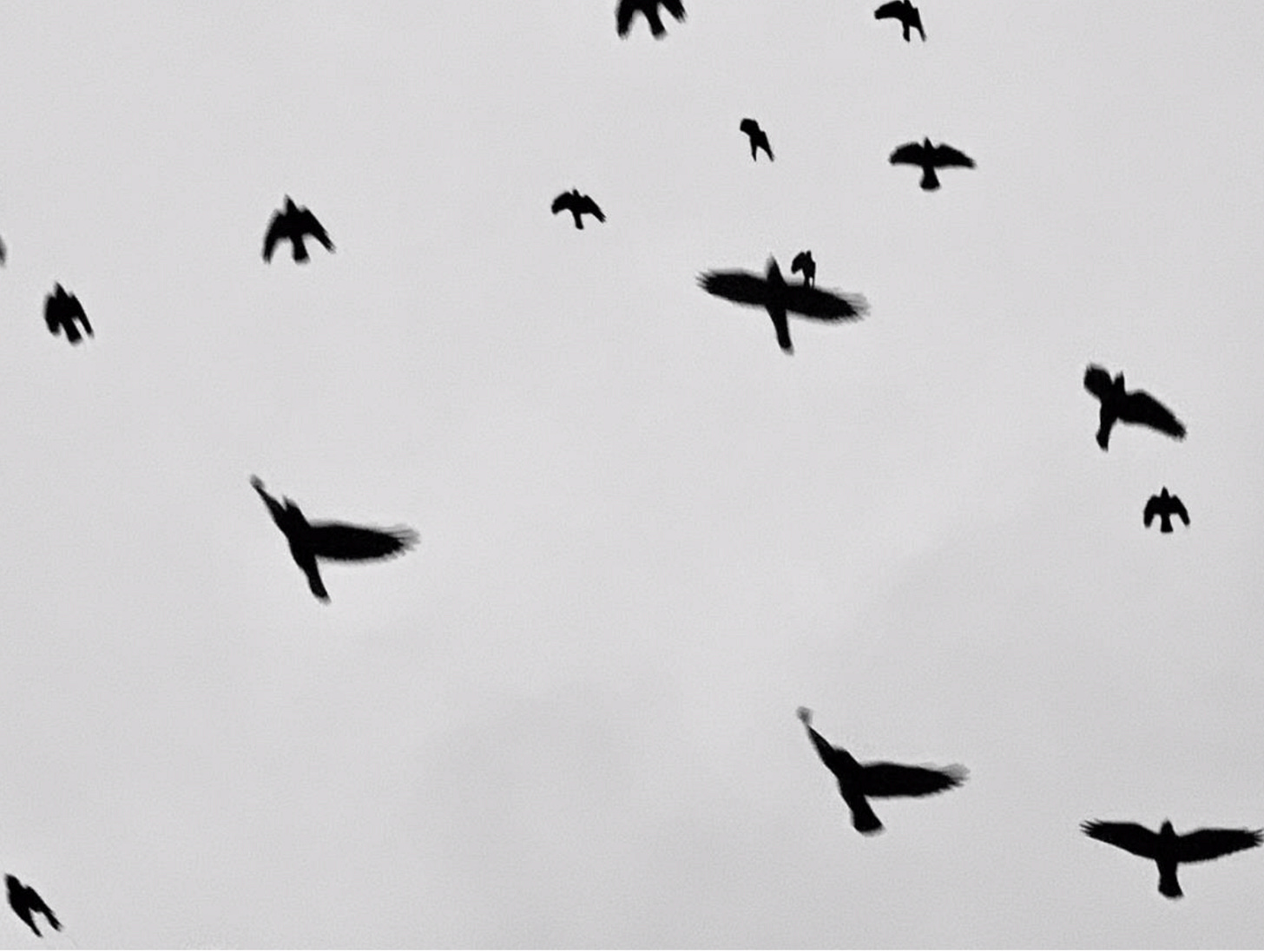 Onyx silhouettes alight the gloaming sky
shouting across the canyon, voices
carried by thermal zephyrs we've christened
for the Virgin Mary's mother or
the Bringer of Light, depending on your
view of history and elision.
Elijah the Tishbite believed them
angelic visitors dispatched by the Divine,
a murder that brought him breakfast and
evening repast while he sheltered in place
between river and ravine.
Prophetic servants or harbingers of scorched
Earth, they recognize faces and
never forget a name, assembling at dusk
for dawn deployment.
(1 Kings 17)
---
Dear Readers,
This week, my creative partners and I launched a new podcast called Artist Care and Feeding—an ongoing conversation with with artists and creatives of all mediums and genres, about how they do what they do and, for right now at least, how the COVID age has affected (or not) how they create/make their art. Writers, filmmakers, actors, musicians, dancers, directors, poets, playwrights, designers, comedians, puppeteers sculptors, painters, chefs, all kinds of performers and makers of all stripes.
With my co-host Kaitlyn Barrett and producer Mark Rivet, both veterans of Broadway touring companies, we came up with the idea to support, encourage, and promote artists and other creatives. We also designed ACAF to inject hope and, yes, light into this difficult, dark time each one of us is trying our best to navigate as safely, sanely, and gracefully as possible.
Four ACAF episodes debuted on Tuesday Oct. 27, and two more arrive Thursday Oct. 29, followed by new episodes every Tuesday/Thursday after that. Among this week's debut episodes are compelling conversations with actor Nick Edwards, who most recently portrayed Jesus in Godspell at the Berkshire Theater Company— the only Equity-approved musical to run since the beginning of the pandemic; filmmaker and Emmy Award-winning producer Linda Midgett, who is the director of the documentary film Same God; stand-up comedian and writer Rachel Mac, who gave birth to her first child during lockdown; and the first half of our double-feature conversation with Martin Hanlin, the Scottish musician, radio DJ, music manager, and film producer who wrote, performed, and recorded an entire album in lockdown; and ballerina/dancer and voice actor Micki Weiner, who (after live theater shuttered around the world), channeled her considerable creative energy into starting a line of naturally-dyed, sustainable, compostable lingerie.
The podcast is available wherever you get your podcasts—including iTunes, Stitcher, and Spotify—and directly on our website, www.artistcareandfeeding.com.
May it inspire you and the artists in your life.
Lux in tenebris lucet…

---