Discover more from Cathleen Falsani: This Numinous World
Observations from a life of looking by the author and journalist Cathleen Falsani
Over 2,000 subscribers
Sunday Stories: Walking After Midnight
On walking in the dark and listening to the night, plus a mini-dispatch to give you pause and light for Day 7 of our 28-day Advent journey.
Apart from the infrequency with which we wear hard shoes and lock our car doors, one of the most significant, if subtle, changes to quotidian life when we moved from an exurb of Chicago to a Southern California coastal village more than a dozen years ago, has been how seldom we go out at night.
Cathleen Falsani: This Numinous World is a reader-supported publication. To receive new posts and support my work, consider becoming a free or paid subscriber.
Especially on foot.
Living and working in and around a major metropolitan area for me meant that late-nights were a regular occurence and being out after dark nearly a daily ritual. That, along with chasing a story (literally) in three-inch heels and having a favorite Italian beef stand, were things of the past once we relocated to a fairly sleepy seaside hippie-dippy artsy-fartsy dawn-patrol-surfing community south of LA, where, I am told, a "night life" of a kind still exists.
But here, behind the Orange Curtain, we basically roll up the sidewalks after sunset. Most restaurants serve their last dinner entrées before 9 p.m., and after that … there are three bars in town, none of which you'd want to spend much time in reasonably sober. There aren't a lot of reasons to be out at night, unless you're driving home from dinner or a gathering at a friend's house five-to-ten minutes away. Because almost everything here is five-to-ten minutes away by car.
The whole car-culture of LA and Southern California in general is certainly real. At least for most of us. I don't have to rely on public transportation and for that I am grateful. It's possible to get around these parts without a vehicle of one's own, but it's not easy. Where we live is on a lip of a canyon overlooking much of the downtown portion of our village, where walking everywhere is easy for the able-bodied. To get to our house, though, you have to make your way up one of two very long, very steep, un-sidewalked hills and a series of switchbacks that, for a pedestrian or—bless their cardiovascularly super-fit hearts—bicyclists is decidedly not a pleasurable stroll.
So, for all this hiking you may have seen evidence of me doing on the socials, I usually drive to whatever trail I'm taking (five-to-ten minutes away in town, or 15-to-25 minutes to reach some of my usual haunts). This time of the year, when the sun sets about 4:20 p.m., and I'm busy trying to finish writing projects before Christmas, sometimes the daylight is gone before I realize I haven't gotten in my usual walk/hike.
We live in an exceedingly low-crime area, but even so, it's not entirely safe for a woman to hike a trail alone in the dark. Women, you feel me. I hate this, but it's true and while assaults in our area are rare, so is getting bitten by a rattlesnake. And, well, you know the rest of that story.
Sometimes I drive down to the high school where the track is open and lit most nights. Walking in a loop is a way to get steps in and sometimes that's all I'm looking for, but most of the time, the walk I need is not just about making my Fitbit happy. I want to have an experience of moving through space and time that's unpredictable. Not taking-a-stroll-at-two-a.m.-in-the-West-Village unpredictable (Lord, how I miss that as an actual option), but a path with at least the possibility of whimsy.
A few years ago, after we had a racist incident at our house and suddenly the seemingly idyllic town to which we'd moved and chosen to raise our son felt anything but idyllic (or safe, emotionally or physically), I stayed home. A lot. In retrospect, it was training for the lockdowns that were to come a few years later. It didn't take me long then to become stir crazy, but I didn't want to run into anyone at the gym or on one of the trails in town and have to talk about the incident. So, I started walking in our neighborhood at night.
This was the winter of 2017. Winter here is not winter in Chicago. It's a lot easier to throw on hiking boots and a hoodie and head out at midnight when it's 50 degrees and not five-below. What I discovered in the early days of those late-night walks was first how out of shape I was (even at the top of our hill it's still quite hilly), and then, once I caught my breath, how quiet it was and still is here at night.
Streetlights are few and far between up in our neighborhood, which we affectionately call "The Cheap Seats," and so it's also fairly dark. There's some trashlight from the Pacific Coast Highway down below and from motion-sensitive security lights (and holiday lights this time of year), but even so, we regularly see a panoply of constellations and other heavenly bodies with the naked eye—far more than I ever remember seeing in Chicago or even growing up in suburban Connecticut.
I love walking through our neighborhood here late at night, the hush, and the way what light there is shows up in subtle and spectacular ways. Last night, I left the driveway at the stroke of midnight and walked south for a few blocks and then turned east toward the canyon behind ours.
Most neighbors had switched off their impressive holiday light displays for the night, so there was far less trash light than I had anticipated—a wonderful surprise. It was a clear night with only a few moody clouds high above the horizon. A waxing gibbous moon hung over the Pacific like a giant disco ball surrounded by blue cotton candy.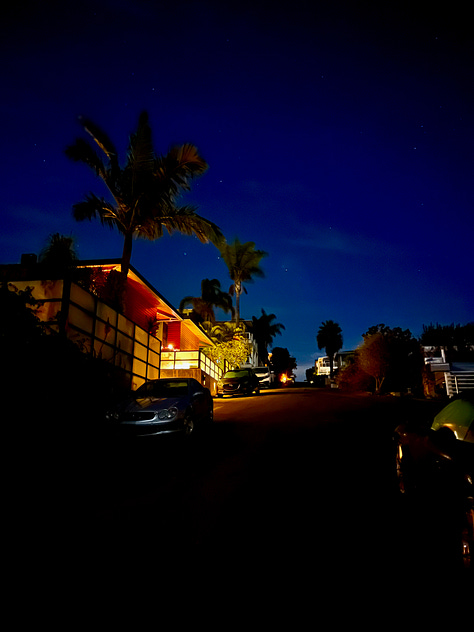 When I walk at late at night, I usually don't listen to anything like I do during the day when I almost always have an audiobook or lecture going in my ears. That is, unless I'm rage-hiking, in which case it's probably the Beastie Boys or A Tribe Called Quest propelling me forward.
Last night, I walked in silence because that's what I was craving.
Silence and darkness.
Two things that used to frighten me I was younger but that I find I need more of nowadays.
"I have learned things in the dark that I could never have learned in the light, things that have saved my life over and over again, so that there is really only one logical conclusion," Barbara Brown Taylor says in her brilliant book that I passionately recommend to anyone who will listen to me, Learning to Walk in the Dark. "I need darkness as much as I need light."
Amen, sister.
Who knew darkness would be in such short supply, even as we here in the Northern Hemisphere approach the shortest days of the year?
The desert house where we'll be spending Christmas week later this month is located in a certified dark-sky area. Do you know about this phenomenon? Actual physical darkness is endangered by modern "trash light" to such an extent that there exists a robust, international movement to "protect the night from light pollution." For the last several years, I've made a point of seeking out these increasingly rare locations.
There are only 195 certified International Dark Sky Places in the world. (Go find one. Here's an interactive map.)
A few years ago, when I took my mother to Ireland for her first and only visit "home," we headed for one of them in Ballinskelligs, on the southwest coast of County Kerry. I thought Mom might get a kick out of seeing the heavenly bodies from such a vantage point. Unfortunately, it was overcast and she wasn't sure-footed enough to go for even a short walk after dark.
But I went out on my own a few nights in a row to see what I could see, which was not much. I suppose that was the point. It was extremely dark. Like, can't see my hand in front of my face without the torch from my iPhone dark. After my late-night rambles, I'd return to the house and light a turf fire in the small cast-iron stove of the second-floor sitting room and just stare at it, sometimes for hours. (Mom was sick, terminally so, and I was not sleeping much on our trip full of emotional firsts and lasts.)
I took many videos of that wee fire in the dark house in Ballinskelligs, light dancing behind a grate in the pitch darkness, while my mother slept soundly in a downstairs bedroom. In the early months of COVID, when sleeplessness returned, I used to play the videos of that turf fire on a loop in the middle of the night in California, hoping they might lull me into restfulness. They often did. Here's a taste of that:
Last night, I walked for about 40 minutes. A couple of miles in total. When the light caught my eye, I took turned off the iPhone torch, opened the camera, switched off the flash function, held my breath, and took long exposure shots of what I saw, hoping to capture some of the silence-and-light magic.
Wherever this finds you, whether you're in a tiny apartment in the middle of a busy city, a suburban neighborhood with inflatable elves decorating your neighbors' yards, out in the wild or the country some place where there's less light and more dark, bundle yourself up and trundle yourself out the door late at night. Go for a walk, even for a few minutes. Once around the block. Bring a buddy if it's safer, but maybe convince them to join you in silence. And don't forget to look up.
See what you can see. Hear what you can hear.
"Here is the testimony of faith," BBT says in Learning to Walk in the Dark, "Darkness is not dark to God; the night is as bright as the day."
---
Lux In Tenebris Lucet: Sunday, December 4
Day 7 of our 28-day Advent journey of mini-dispatches to give you pause and light.
---
"Watch the birds as they fly above your heads and, who knows, you might well spy a tiny creature riding high on the back of a raven or a swallow. Watch the robin especially because it always flies low, and you might see a nervous young Minpin perched on the feathers having its first flying lesson. And above all, watch with glittering eyes the whole world around you because the greatest secrets are always hidden in the most unlikely places. Those who don't believe in magic will never find it."
—Roald Dahl, The Minpins

---

"... Jesus called over a child, whom he stood in the middle of the room, and said, 'I'm telling you, once and for all, that unless you return to square one and start over like children, you're not even going to get a look at the kingdom, let alone get in. Whoever becomes simple and elemental again, like this child, will rank high in God's kingdom. What's more, when you receive the childlike on my account, it's the same as receiving me.

"'But if you give them a hard time, bullying or taking advantage of their simple trust, you'll soon wish you hadn't. You'd be better off dropped in the middle of the lake with a millstone around your neck. Doom to the world for giving these God-believing children a hard time! ''
—The Gospel of St. Matthew 18:2–7 (MSG)
---
Earlier essays on Advent:
---
You have not met yet everyone you will love, nor have you met yet everyone who will love you.
As we look toward the light that Advent summons, may we be brave and kind.
Much love to you all,
---
As the holidays are fast upon us, if you'd like to give a This Numinous World gift subscription to someone you love, you can do so HERE.
If you are able to support Cathleen's work with a paid subscription, you can do so HERE.
To make a one-time or recurring donation to help support Cathleen's ongoing writing and creative endeavors, please click HERE.
---
Cathleen Falsani: This Numinous World is a reader-supported publication. To receive new posts and support my work, consider becoming a free or paid subscriber.